About Us
Mission Statement: To provide the Jackson Hole community and the greater surrounding area with the most comprehensive and fully integrated chiropractic treatment facility specializing in the diagnosis and conservative treatment of neuro-musculo-skeletal disorders.
Meet Dr. John Zendler, DC CCSP:
Dr. Zendler is a graduate of Palmer College of Chiropractic. He has been practicing as a chiropractic physician full-time for 22 years. He is nationally board-certified and state board-certified in Wyoming, Idaho, Michigan, Illinois, and Ohio. His chiropractic techniques include Diversified, Activator, Cox Flexion-Distraction, and Proprioceptive Neuromuscular Facilitation (PNF). His post-doctoral training includes:
Certified Chiropractic Sports Physician (CCSP): National College of Chiropractic
Post-doctoral studies in Orthopedics: National College of Chiropractic (298 hours)
Certification in Electro-Diagnostic Testing (120 hours)
GRASTON Technique® Certification
Our 5,000 sq ft. facility is located less than one mile from Jackson's historic town square at 215 Scott Lane. The clinic offers on site X-rays, electro-diagnostic testing, a fully equipped exercise rehabilitation gym, a movement therapy studio, multiple private physiotherapy and treatment rooms, and a Lordex® spinal decompression therapy room.
Call for an Appointment Today!
(307) 733-8088
Blue Cross Blue Shield of Wyoming Provider
Most insurance accepted for local residents
Workers Compensation and Personal Injury (e.g., car accidents)
VISA and MasterCard Accepted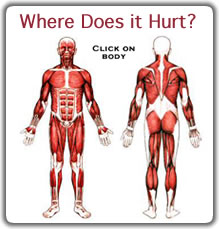 Testimonials
"I have only been to one other Chiropractor back home, and I'd say that this one exceeds the other by far. After day one, I felt 60% better with my back pain. You guys do a great job up here and I will make any additional appointments if needed while [visiting] here. Thank you."
- Taylor Felton, Professional Skier